Utility Scale Wind & Solar Workshop + Solar Decathlon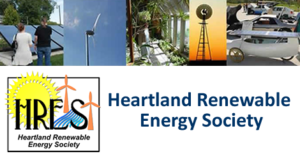 HRES Double Header Workshop – FREE
* Utility Scale Wind & Solar: Where we've been. Where we are.
Where we're going
* Missouri S&T Solar House Design Team 2020 Solar Decathlon
Saturday, August 10, 9:30 am.
Antioch Library, 8700 Shawnee Msn Pkwy, Shawnee, KS
ROUND 1: We will start off the morning with a thorough examination of wind and solar energy. Mark Hannifan, Senior V.P. of Tradewind Eneryg, Inc., will examine the beginnings of wind and solar, our current state of affairs, and what is in store for the future of renewables and energy for our future. More info on Mark below.
ROUND 2: Students from Missouri S&T (Missouri University of Science and Technology Solar House Design Team) will lay out their current plans for their entry into the 2020 Solar Decathlon competition. They will discuss their ReFresh green roof, and highlight the use of micro grids to store energy and enable solar neighborhoods. Their project is aimed at millennials by providing cheaper and greener housing options for tomorrow's families.
More info at https://solarhouse.mst.edu/.
Mark HannifanMark Hannifan is Senior V.P. of Development with Tradewind Energy Inc., a Kansas City-based developer of utility-scale wind and solar farms. He also is Founder and President of Sun Partners International (http://www.sunpartners.org). a Kansas City-based non-profit organization that funds and installs solar power systems in East Africa with a focus on water pumping, medical clinics, and schools. Mark Hannifan has had a career-long focus on renewable energy technologies, including technical and management positions with the National Renewable Energy Laboratory in Golden, CO, Kansas City Power & Light, DynCorp Meridian (a Washington, DC-based energy/environmental consulting firm), and Burns & McDonnell Engineers
See you Saturday, August 10!
Craig Wolfe, President
info@HeartlandRenewable.org